Tom Gola was an outstanding player during this period of men's
college basketball. An outstanding defensive forward and a
noted point scorer offensively, Tom Gola was an three time
All American and was chosen Player of the Year by United
Press International (UPI) in his senior season, 1955.
Forward 6 ft 6 inches La Salle 1951-1955 Member of the
Naismith College Basketball Hall of Fame. Drafted by the
NBA Philadelphia Warriors in 1955.
One of the most heralded players during the early 1950s, Tom
Gola played a major role in the successes of La Salle University
men's basketball in the 1950s. He was the team's leading scorer
for the 1954 NCAA Champion La Salle squad (26-4) and for
the runner up 1955 team in 1955 (26-5).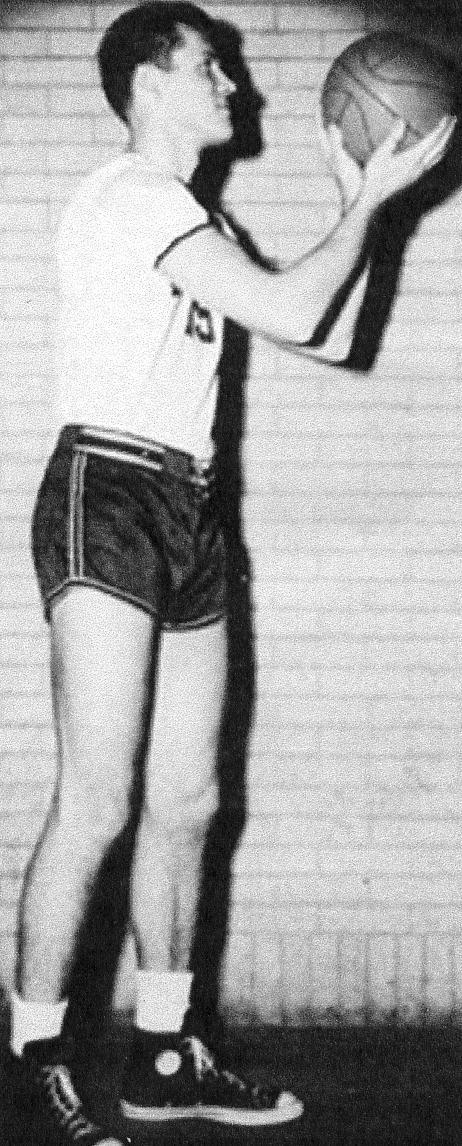 Photo courtsey LaSalle University Alumni
As a sophomore in 1952-1953 Tom Gola averaged 18.5 ppg
and 15.5 rebounds per game and was chosen a consensus
first team All American. And, the next two years, 1954 and 1955
Tom Gola was an unanimous first team All American selection.
He pulled down a career best 21.7 rebounds per game in 1953-54
and scored a career high 24.2 points per game in 1954-1955.
Tom Gola received accolades for his 'play to win style' all thru
his college basketball career. In 10 NCAA tourney games he
averaged a robust 22.9 ppg and helped La Salle compile a sterling
9-1 record.
In the 1952 NIT Tournament the freshman Tom Gola averaged 14
points and was chosen tourney Co-MVP with teammate Norm
Grekin as La Salle won the 1952 NIT Tourney.
Tom Gola college stats: 2462 points, a 20.9 ppg average in 118
games, 904 FGM in 2222 FGA, a .407 pct, 654 FTA, 877 FTA,
.746 percentage, 2201 rebounds, 18.7 rpg. Hometown:
Philadelphia
La Salle Men's Basketball Archives by Joe Balazs of basketballhistorian.com
One of the all time greats in basketball history, Elgin Baylor 'was as good as it gets' in college as well as in the NBA pro ranks.
College of Idaho 1954-1955, Seattle
University 1956-1958 Member of the Naismith Hall of Fame
Elgin Baylor had perhaps the best freshman year in collegiate basketball history. In 26 games during his freshman year at the College of Idaho in 1954-55 Elgin Baylor scored 814 points, averaging a robust 31.3 points per game, and had 492 rebounds, an average of 20.5 per game. Elgin Baylor did not play the next season, being ineligible after transferring to Seattle University.
Playing with Seattle in 1956-1957 Elgin Baylor was first in the college ranks in rebounds with 508 and averaged 29.7 points per game, third highest among college players. For his efforts Elgin Baylor was selected a consensus second team All American in 1956-57.
During the 1957-1958 Elgin Baylor scored over 47 points in a game 4 times and was a first team unanimous All American forward and was voted 1958 Final Four Most Outstanding Player, Elgin Baylor averaged 27 points in 5 NCAA 1958 Tournament Games including 25 points in the Championship Game 84-72 loss to Kentucky in Louisville KY.
Seattle coached by John Castellani finished the 1957-58 season with a 24-7 record. Elgin Baylor was second in the nation in
scoring with 943 points, a 32.5 average. First was Oscar Robertson of Cincinnati with 984 points, 35.1 average. Third was Wilt The Stilt Chamberlain with 633 points, a 30.1 avg.
Selected as a junior by the Minneapolis Lakers in the first round of the 1958 NBA Draft
Elgin Baylor
Birthdate:
9/16/1934
Height / Weight:
6' 5" / 225 lbs.
Position:
F
College:
Seattle

1970 TOPPS CARD
Elgin Baylor college stats: an even 2500 points, 31.3 points per game, 80 games, 956 FGM, 1903 FGA, .502 pct, 588 FTM 791
FTA, .743 pct, 1550 rebounds, 20.0 average per game. Hometown: Washington DC